Palm Jaggery Made from palm sap! Karipetti Pana Bellam
Palm Jaggery Panai Bellam Made from palm sap!
Palm Jaggery Panai Bellam/ Karupetty/ Karipetti is made from palm sap instead of sugarcane juice.

The palm sap is boiled, hardened and shaped using a coconut shell to make authentic Karipetty/ Palm Jaggery.

Fresh sap is collected from palm trees which is filtered using a cloth and boiled continuously until it turns brown.

Some amount of lime soda is added for texture.

This mixture is then poured into cleaned coconut shells for hardening which is then packed and transported.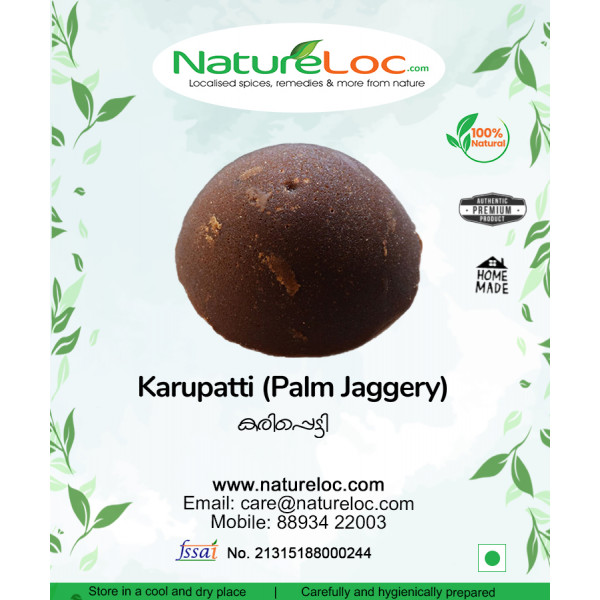 Palm Jaggery | Hand skilled labour
Palm trees are abundant across South India, especially Kerala, Tamil Nadu and Andhra Pradesh.

Palm climbers use generations-old techniques for climbing these trees and using the knife-pot apparatus the sap is collected.

These methods are still not automated, dependent heavily on human craftmanship.

Filtering of sap, boiling of sap and hardening using a coconut shell is done by skilled labourers.

The entire process is human labour dependent making it generations-old skilled cottage industry.

Coffee sweetened with Karupetty
Regular coffee is sweetened using panam vellam as an alternative to processed sugars.

Coffee blends well with this natural sweetener and sometimes is consumed without milk adding water and dry ginger for throat infections, cough and chest congestions.
Sweet verities –Maryur jaggery, panam kalkandam Lump sugar palm, white kalkandam sugar candy buy from Natureloc.com
Karupetty Halwa
Karupetti Halwa is a common sweet dish consumed in Tamil Nadu.

The melting texture of Karupetti makes the halwa extra soft and smooth.

This halwa is mostly made on auspicious occasions in Tamil Nadu
Mysore Pak with Panai Bellam/Vellam
Mysore Pak is a common sweet largely consumed in Karnataka.

Sometimes, panam jaggery  is added instead of normal processed sugar.

This sweet is made with just three ingredients- besan, ghee and palm jaggery.

Palm Jaggery gives an extra sweet tone to the Mysore Pak and gives a natural sugary punch.