Spice Chilli-Kashmiri Red Chilli Vs Red chilli

Spice Chillies-Kashmiri Red Chilli Vs Red chilli
Chilli is the dried ripe fruit of the genus Capsicum. Capsicum annuum is an annual sub –shrub, the flowers of which are borne singly and fruits usually pendent, which provide red peppers, cayenne, paprika and chillies and sweet pepper (bell pepper) a mild form with large inflated fruits.
Capsicum frutescence is a perennial chilly with small sized pods which are highly pungent. It is commonly known as 'bird chilly' and 'Tabasco'.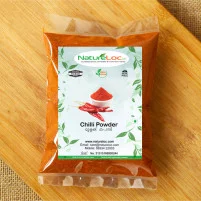 India is the largest producer, consumer, and exporter of Kashmiri red chillies. They are a blend of quality red chillies grown in Kashmir. These chillies could be used as a whole spice, in powder form, or by slitting it in pieces. Kashmiri chilli gives a vibrant red color to food and is also capable of adding flavor to any dish.  It is small in size and is less pungent. It is mostly used in tandoori dishes as it becomes more aromatic when roasted. It adds a very bright color to foods that are capable of absorbing color
Red chilli powder is abundantly used in various regular to the exotic dishes.It adds texture, colour, spice and punch to the Indian food to enhance the taste, flavour and look of the dish. Catch Red Chilli powder is made by Low Temperature Grinding Technology. The raw material is sourced from the prime spice growing farms of of Guntur(Andhra Pradesh) & Byadigi (Karnataka), which not only makes the food taste good, but also provides health benefits. It is an important ingredient for preparing chutneys, curries, gravies and sauces.
Health Benefits of Red chilli powder and Kashmiri chilli powder
Chilli promotes digestive health
Reduces inflammation and pain
Relieves nasal congestion
Helps in weight loss
It is Heart friendly